Rencontre avec Hustla.Oj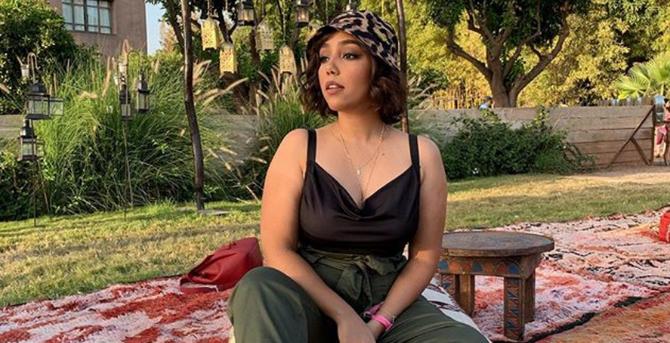 Specials
Oumaima alias Hustla.Oj est une jeune marocaine qui nous livre au quotidien un contenu divertissant, sous forme de petites capsules vidéos humour, teintées de messages cachés dont le plus important est le Women Empowerment. Nous revenons avec elle dans cette interview sur sa vie, son univers, son contenu et ses projets.
Peux-tu nous raconter ton histoire ?
I was born and raised in Casablanca, Hay Mohammadi. My father died when my mom was pregnant. So, I basically never knew my dad, it was always me and my Mom. To be honest, my mom is always going to be my inspiration in life, because now, looking back at all the things that she went through, I can only imagine how hard it was for her to get me the things that she got me : education, healthy living, healthy environment, etc. Especially, considering the fact that I was born in a very popular neighborhood, so she made sure that i was the product of a very healthy environment, even though my neighborhood doesn't feel like I have such a healthy one. Right now, I'm a fifth-year student at ENCG Settat, studying Marketing, so that's my story up until now.
Qu'est ce qui t'a mené vers l'humour et la création de contenu ?
Honestly, I always used to send snaps to my friends, and then, they asked me why i don't start posting those things as videos on Instagram, Facebook, etc. They thought I was very funny and that I would have a community ! I was like no, there is no way, people are going to judge me and everything, which is exactly what happened. But I guess I started having a different mindset where I didn't really care about the fact that people were going to judge me or not. That's when I just started posting random stories and videos and here we are !
Où puises-tu ton inspiration ?
I'm just inspired by every single thing around me, or when something happens to me or to one of my brothers , one of my friends.. and I just try to make something out of it.
Comment réussis-tu à rester motivée pour créer du contenu au quotidien ?
Well, what motivates me the most is the fact that I see people enjoying what I do, especially how they relate to it. Because I do not believe that I'm a funny person, I believe I'm a relatable person. What I do is not necessarily supposed to make people laugh, it's just suppose to make them go like : oh yeah, right, this happens to me too. So I'm more relatable that anything else.
Comment as-tu vécu cette expérience de confinement et de pandémie de manière générale ?
To be very honest, I'm someone who trusts God's plan and I believe that everything happens for a reason. In the beginning, of course I was stressed, I was scared, I mean, I'm still stressed and scared, because the virus is still very present. But it was a new thing and we do not know how to deal with change the best way, especially at the beginning. But I think that when you realize that it's not just about you, that it's about everybody else, and this is what you are supposed to do to save yourself, then you just have to go with the flow.
As-tu un rêve que tu souhaites réaliser et qui ne s'est pas encore concrétisé ?
It is not really a dream, it is more of a goal: I want to be on the Forbes cover, which I will be doing one day.
Des projets à venir ? Peux-tu nous en parler ?
Of course, I always have a new project, I'm not going to talk about that because that's the point of a surprise, I think that you guys will see it at the right moment…